Hilton-Baird goes the distance for children's hospice
18/09/2014 / Comments 0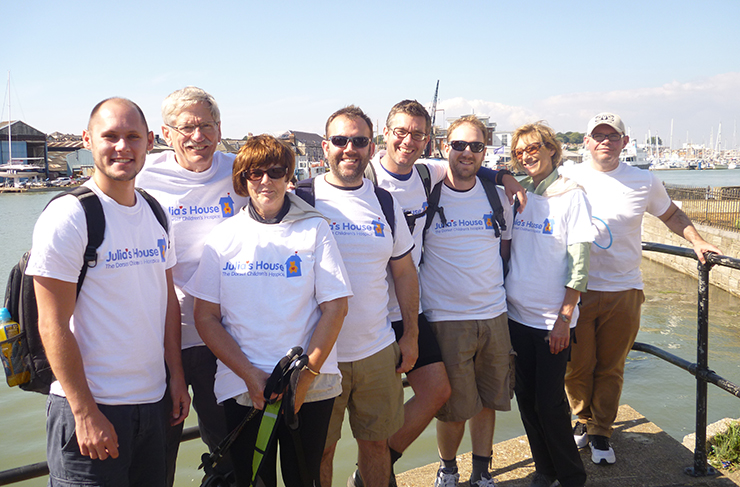 A business finance group has pushed through the pain barrier to raise over £6,000 for Dorset children's hospice, Julia's House.
Last weekend (12-13 September), seven employees from the Hilton-Baird Group set out to conquer the 68 mile coastal path around the Isle of Wight in under 24 hours. It was an ambitious target but the team smashed it, completing the feat in just 21.5 hours.
Over £3,000 has so far been donated in support of the hospice, which provides crucial support to life-limited children and their families in Dorset and South Wiltshire. The Hilton-Baird Group is matching all donations received.
Group CEO Alex Hilton-Baird said:
"When we visited the hospice it was clear to see what a wonderful charity Julia's House is. We wanted to do something memorable that would inspire people to donate and help them meet their £3.9 million fundraising target, and we could hardly have chosen something more difficult.
"It was a really tough challenge, but one that made everyone push each other to go further than any of us have ever done before. I think it was fitting way to raise awareness for the hospice and we're thrilled with the total we've raised so far."
Steve Mills, Challenge & Events Fundraiser at Julia's House, said:
"As a full-time fundraiser I'm always excited and heartened to see the number of people who challenge themselves personally to fundraise for Julia's House.
"Hilton-Baird's Isle of Wight Challenge really tested them. The challenges facing Julia's House families every day are tough, the money raised will support them and help them to cope. Thank you Hilton-Baird!"
– Ends –
For further enquiries, please contact Jamie Weeden on 023 8070 6637 or email jamie.weeden@hiltonbaird.co.uk.
Note to editors:
The Hilton-Baird Group provides working capital and risk solutions to businesses and lenders from across the UK and Europe. It comprises a commercial finance brokerage, debt collection agency and risk management agency, and has helped thousands of businesses to improve their cash flow and achieve their objectives. Find out more about Hilton-Baird at www.hiltonbaird.co.uk.
For more information about the Hilton-Baird Group, contact Alex Hilton-Baird on 07958 745088 or email alex@hiltonbaird.co.uk.