Local CEO takes on the Thames Marathon
09/08/2016 / Comments 0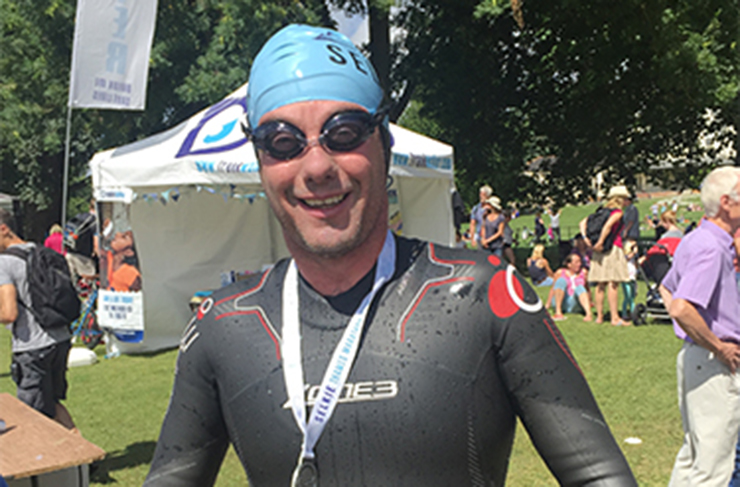 On Sunday 7th August 2016, the CEO of a Southampton-based business finance group took part in the Thames Marathon Bridge to Bridge 14km swim in support of Wessex Cancer Trust, raising over £1,300 – and donations are still coming in.
Alex Hilton-Baird – who founded the Hilton-Baird Group in 1997 and whose father was diagnosed with bowel cancer in 2013 – completed the 14km stretch of the River Thames between Henley and Marlow in four hours and 42 minutes.
It was an outstanding achievement in testing conditions, and an excellent way to raise awareness of the work Wessex Cancer Trust does in the local community. The Hilton-Baird Group will be matching the final sum raised, taking the total beyond £2,600 as it stands.
CEO of the Hilton-Baird Group, Alex Hilton-Baird, comments:
"With cancer affecting more and more of us, the services and support provided by charities such as Wessex Cancer Trust have rarely been so vital. I experienced the impact cancer can have first-hand a few years ago when my dad was diagnosed with bowel cancer. I'm pleased to say that after receiving exceptional care and treatment, he was able to beat it. But not everyone is so fortunate.
"I therefore wanted to do something to inspire people to donate money to Wessex Cancer Trust. We're delighted as a company to support this wonderful charity and hope that the money we have raised will allow them to extend their services to even more people who need them."
Head of Fundraising of Wessex Cancer Trust, Sofie Bennett, comments:
"I would like to congratulate Alex on his amazing achievement. Wessex Cancer Trust rely on the support of the local business community so we are really grateful that the whole team at the Hilton-Baird got behind this challenge. Thank you!"
If you are interested in fundraising for Wessex Cancer Trust as an individual or as part of a team, please contact the fundraising team on 023 8067 2200 or email fundraising@wessexcancer.org.uk.
– Ends –
For further press information please contact maya.hinova@wessexcancer.org.uk or call 023 8067 2200 / 023 8051 6571.
Note to editors:
Wessex Cancer Trust provides local support for people living with or affected by cancer, irrespective of their age.
The charity currently has six cancer support centres located at: Waterside at The Grove, Hythe, Lugley Street, Isle of Wight, St. George's Street, Winchester, The High Street, Cosham, Winchester Road, Chandler's Ford and Hinton Road, Bournemouth.
As well as counselling and complementary therapies, Wessex Cancer Trust provides a full range of additional services to support clients and their families, including: Financial Assistance, Holidays Homes, Information and Support, Patient transport and Activity groups.
Alex Hilton-Baird is CEO of the Hilton-Baird Group, which provides working capital and risk solutions to businesses and lenders from across the UK and Europe. Now in its 20th year, the Group comprises a commercial finance brokerage, debt collection agency and risk management agency, and has helped thousands of businesses to improve their cash flow and achieve their objectives. Find out more about Hilton-Baird at www.hiltonbaird.co.uk.
For further enquiries about the Hilton-Baird Group, please contact Helen Tramaseur or Jamie Weeden on 023 8070 6637 or email helen.tramaseur@hiltonbaird.co.uk / jamie.weeden@hiltonbaird.co.uk.