Hilton-Baird Group reaches new heights to raise £5,000 for Macmillan
26/09/2012 / Comments 0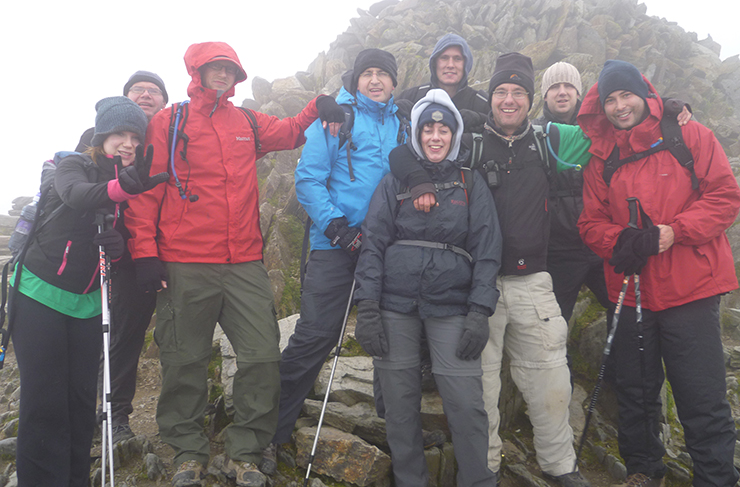 The Hilton-Baird Group has raised more than £5,000 for Macmillan Cancer Support by completing one of the most gruelling challenges the UK has to offer.
Last weekend (22nd – 23rd September), 10 team members conquered the elements and exhaustion to successfully climb the highest mountains in Scotland, England and Wales – Ben Nevis, Scafell Pike and Snowdon. The team completed the challenge in 24 hours and 45 minutes in a bid to raise money and awareness for one of the UK's leading cancer charities, Macmillan Cancer Support.
The team decided to tackle the Three Peaks Challenge after founder and director of the business, Alan Baird, was diagnosed with bowel cancer last year. Alan was on site supporting the team by preparing food and driving between each of the climbs.
Group CEO, Alex Hilton-Baird, was delighted with the team's efforts:
"I'm immensely proud of everyone for putting themselves through the pain barrier for such a fantastic cause. The collective commitment to keep going in difficult conditions was incredible to witness firsthand.
"Macmillan does such a superb job providing financial, medical and emotional help to those in need and we're just happy to know we've contributed to that in some way. We wanted to raise as much money as possible to help and I know I speak for Alan and the company when I say thank you to everyone for the terrific support and generous donations we've received along the way."
– Ends –
For further enquiries, please contact Jamie Weeden on 023 8070 6637 or email jamie.weeden@hiltonbaird.co.uk.
Note to editors:
The Hilton-Baird Group provides working capital and risk solutions to businesses and lenders from across the UK and Europe. It comprises a commercial finance brokerage, debt collection agency and risk management agency, and has helped thousands of businesses to improve their cash flow and achieve their objectives. Find out more about Hilton-Baird at www.hiltonbaird.co.uk.
For more information about the Hilton-Baird Group, contact Alex Hilton-Baird on 07958 745088 or email alex@hiltonbaird.co.uk.
Macmillan Cancer Support improves the lives of people affected by cancer, providing practical, medical, emotional and financial support. Working alongside people affected by cancer, Macmillan works to improve cancer care. More than one in three of us get cancer. Two million of us are living with it. If you are affected by cancer Macmillan can help.
For more information about Macmillan locally contact: Katie Blake, tel 07734 552131, email klblake@macmillan.org.uk.
For more general information about Macmillan Cancer Support, visit www.macmillan.org.uk or freephone 0800 500 800 for an information pack.