Intrepid Julie proves she's poles apart
24/01/2012 / Comments 0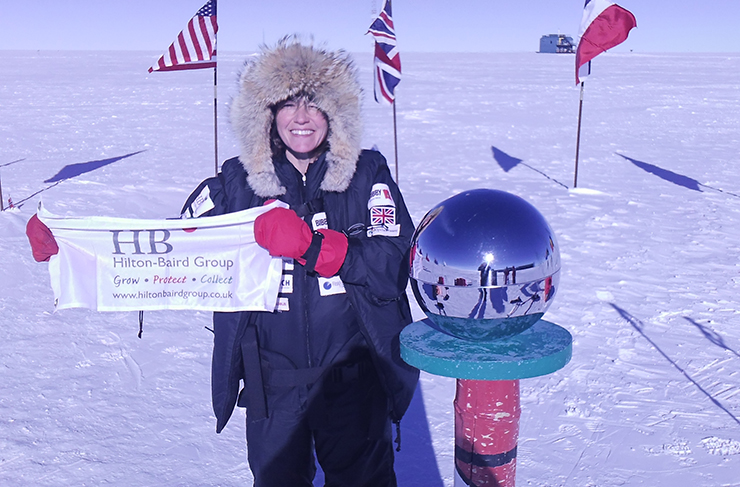 Southampton-based Hilton-Baird Group has successfully helped a dream come true for Julie Ashmore, who became one of just a handful of people to triumph against the elements and reach the South Pole.
Julie, a 43-year-old Mum of two, battled against sub-zero temperatures to make it to the South Pole exactly 100 years after Captain Robert Falcon Scott's fateful voyage. The UK Operations Director of invoice finance provider Bibby, Julie made the epic journey in order to raise vital funds and awareness for Fairbridge, a charity which helps motivate and mentor inner city youths to get them into education, training and employment.
Julie proved her dedication by continuing her training during the Christmas period and leaving the UK on New Year's Day to arrive in Antarctica on 5 January for the polar trek. Despite her dedication to training, Julie's endurance was truly tested to the limit on her adventure as she braved chilling winds and extreme temperatures which reached minus 35 degrees Celsius. However, it was clearly worth all the effort as she successfully arrived at her destination two days ahead of schedule.
Alex Hilton-Baird, CEO of Hilton-Baird Group and one of Julie's sponsors, commented:
"I am immensely proud that Julie has achieved her goal of reaching the magnetic South Pole. She trained incredibly hard for months before and she has shown incredible endurance throughout. It is such a huge undertaking and for an extremely worthy cause. Julie richly deserves her success."
– Ends –
Note to editors:
The Hilton-Baird Group provides working capital and risk solutions to businesses and lenders from across the UK and Europe. It comprises a commercial finance brokerage, debt collection agency and risk management agency, and has helped thousands of businesses to improve their cash flow and achieve their objectives. Find out more about Hilton-Baird at www.hiltonbaird.co.uk.
For more information about the Hilton-Baird Group, contact Alex Hilton-Baird on 07958 745088 or email alex@hiltonbaird.co.uk.